You have your new sensor and you are super eager to test it out. The first thing you want to test out are the alerts. You want to see if it actually works. We get that. In todays blog we will discuss how to force a test alert.
One of our most asked questions is: Why do I not get an alert when I "test" it by making a sudden temperature change?
First let's explain how the alert system works.
The alert system detects changes in temperature. When the measured temperature moves from an "in bounds" temperature to an "out of bounds" temperature, without an intervening change in the min/max set-points, an alert will fire.
If you set the alert and the temperature is out of bounds when you start, an alert will not fire. This means if you set your alert points for the first time in your living room and the temperature is 62.2°F (See Figure 1.) and you set an alert set-point of 5°F, your app will tell you there is a hot alert (See Figure 2.), but will not send you an SMS alert.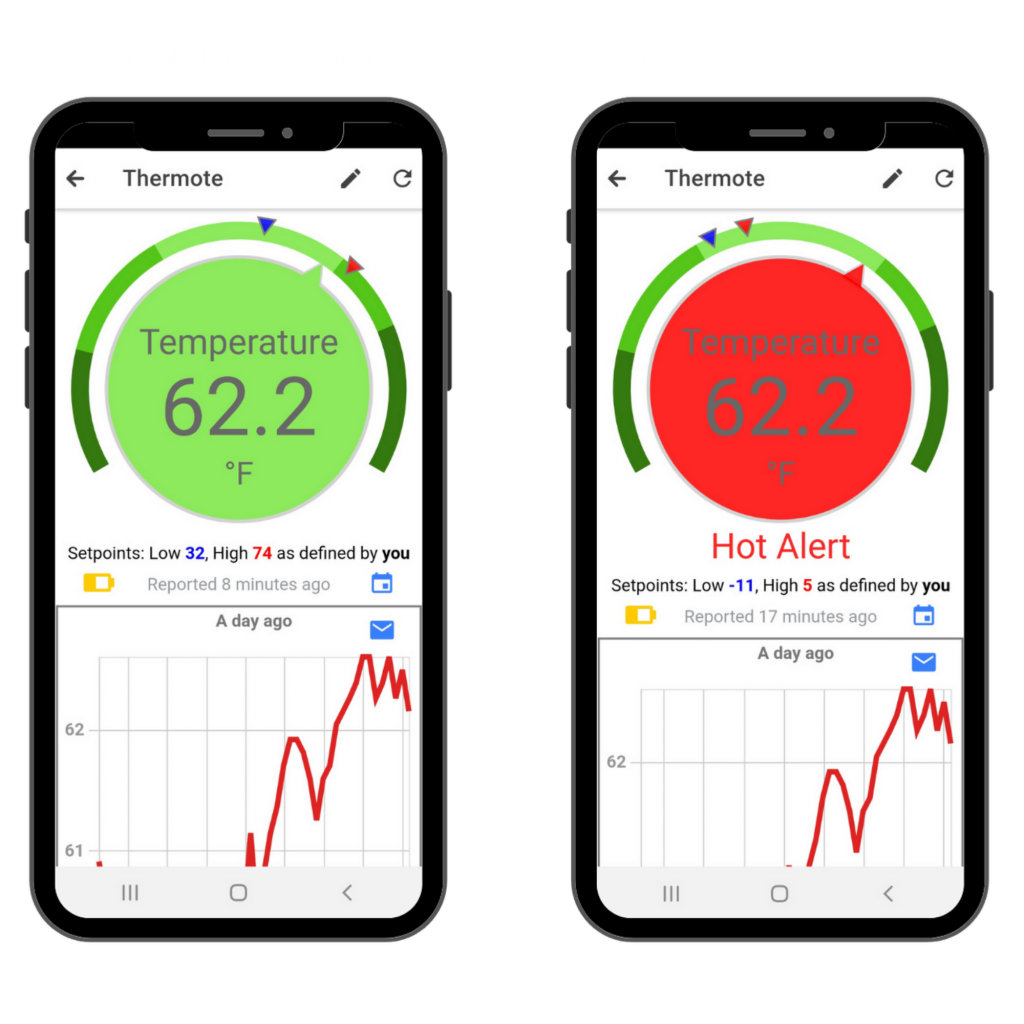 You would need to put the sensor in the intended environment it will be monitoring (for example, a freezer) and allow it to measure that temperature before it would send you an out of bounds alert.
How to force a test alert?
Put your sensor in an environment where the temperature is reported in bounds (like your freezer).
Make sure you have the correct people you want to notify in the alert list. This includes yourself if you want to receive a text message.
Allow the temperature to be reported at the new temperature. (See Figure 3)
Move the sensor to an environment where the temperature will be reported out of bounds (like your kitchen counter).
Do not change the set-points during that process.
The temperature will report "out of bounds". The app will show a "Hot Alert" and you will get an SMS alert. (See Figure 4 & 5). *Note that generally the most recent measured value is displayed in the gauged slightly earlier than it becomes available in the graphed data.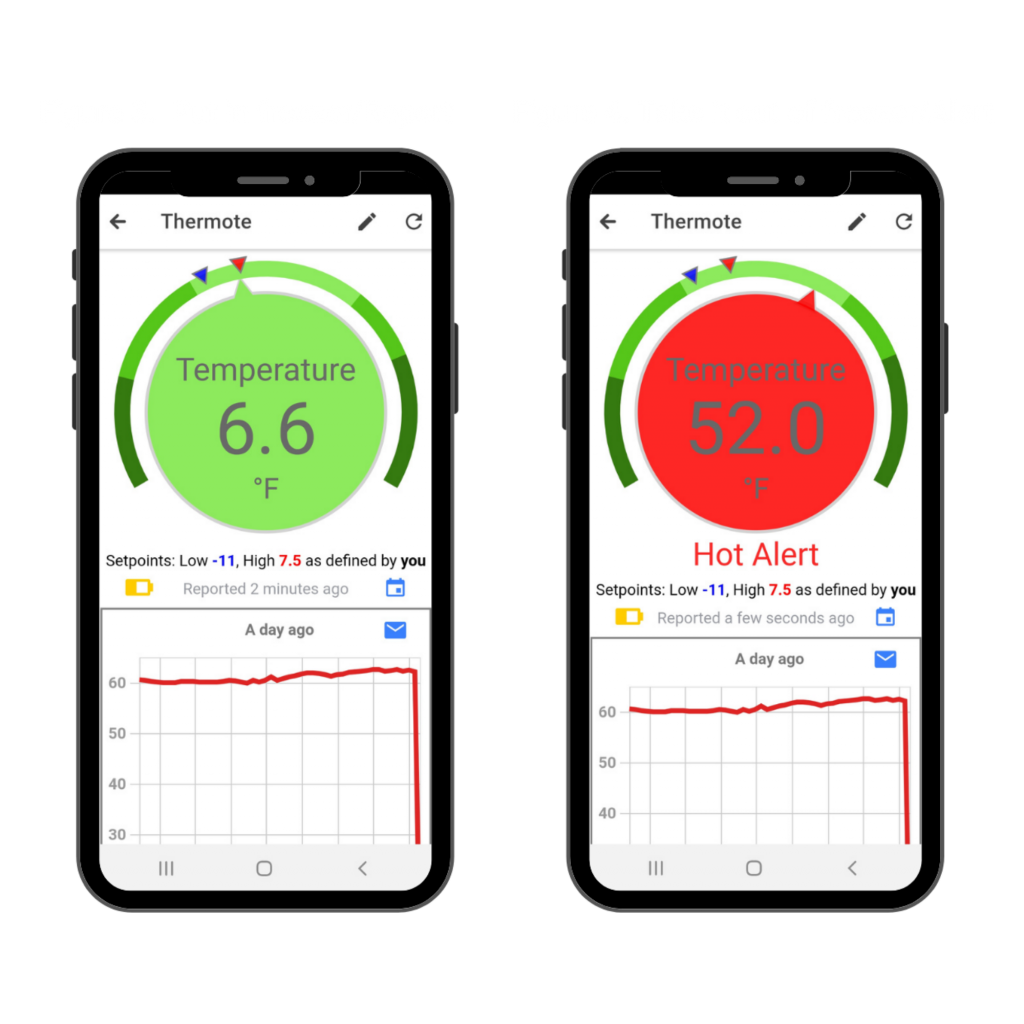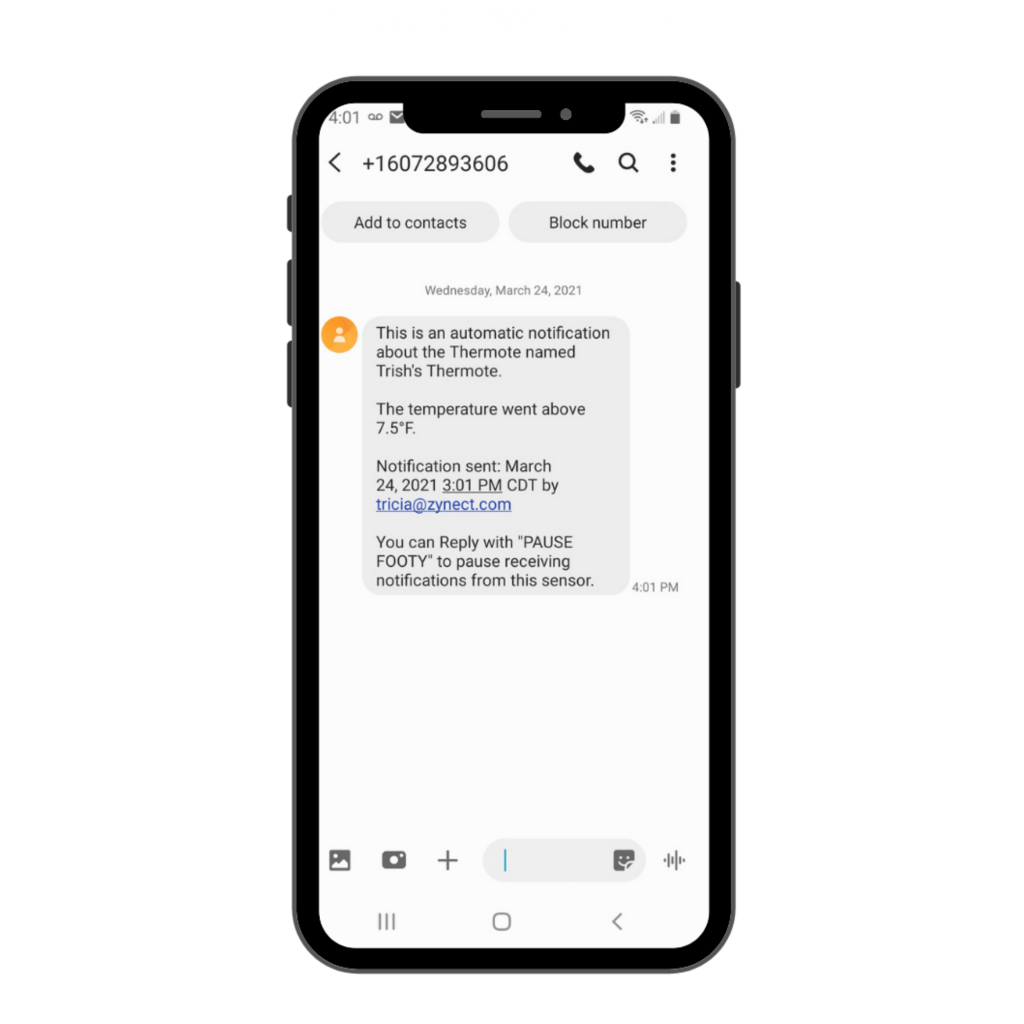 Some things to keep in mind
We do not encourage trying to make instant alerts happen continuously. The system is optimized to behave intuitively under real alert conditions.
The system will NOT send you the same alert condition twice in any 15 minute period. This means you can't, for example, repeat the process described above to get an instant alert and get two SMS messages within a 15 minute window.
If you have Opted Out of receiving SMS messages by replying to the SMS message -PAUSE (5-letter name of sensor), the system will NOT send you SMS messages about that sensor under ANY CIRCUMSTANCES, unless you Opt Back In – Reply to the SMS RESUME (5-letter name of sensor). (See Figure 5 for an example of this)
We hope you found this helpful. If you should have any questions regarding this process you can always reach out to support@zynect.com or visit www.zynect.com.