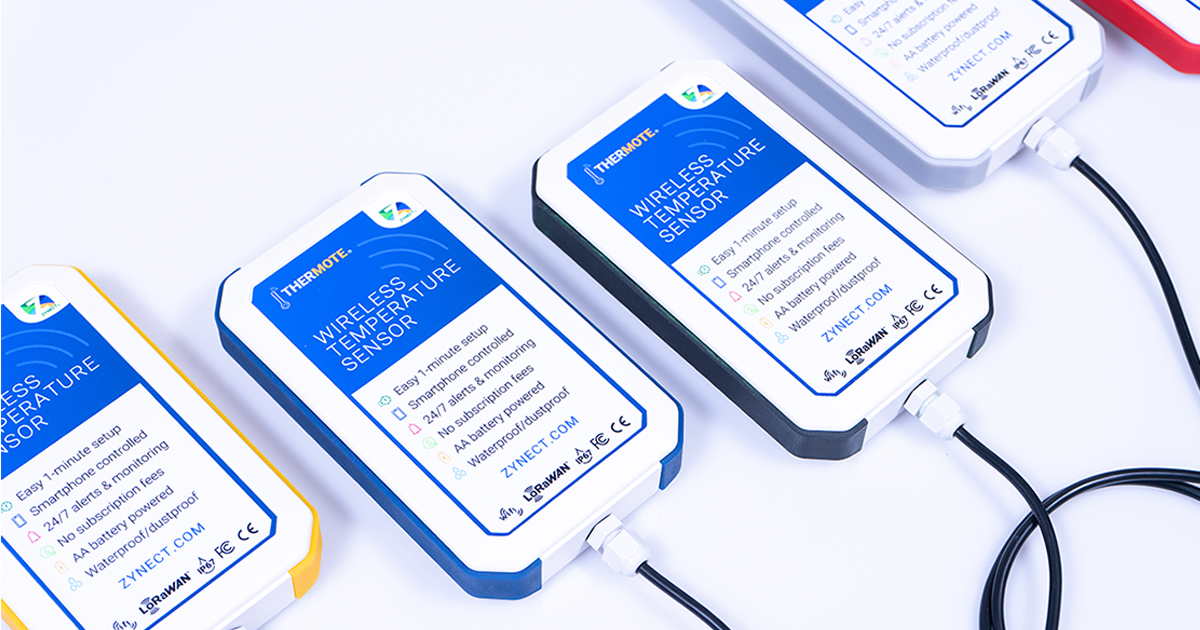 Wireless Temperature Sensor
Measures -77°F to 257°F (-55°C to 125°C)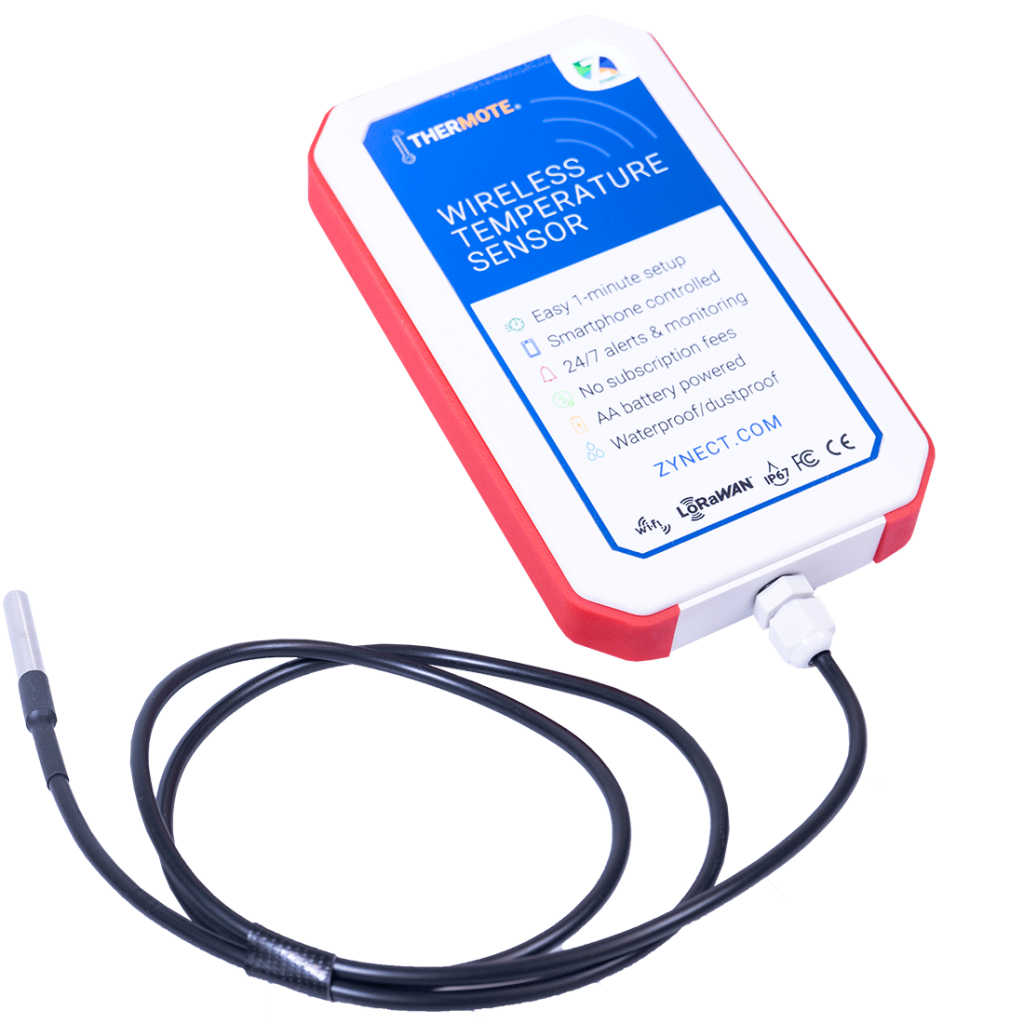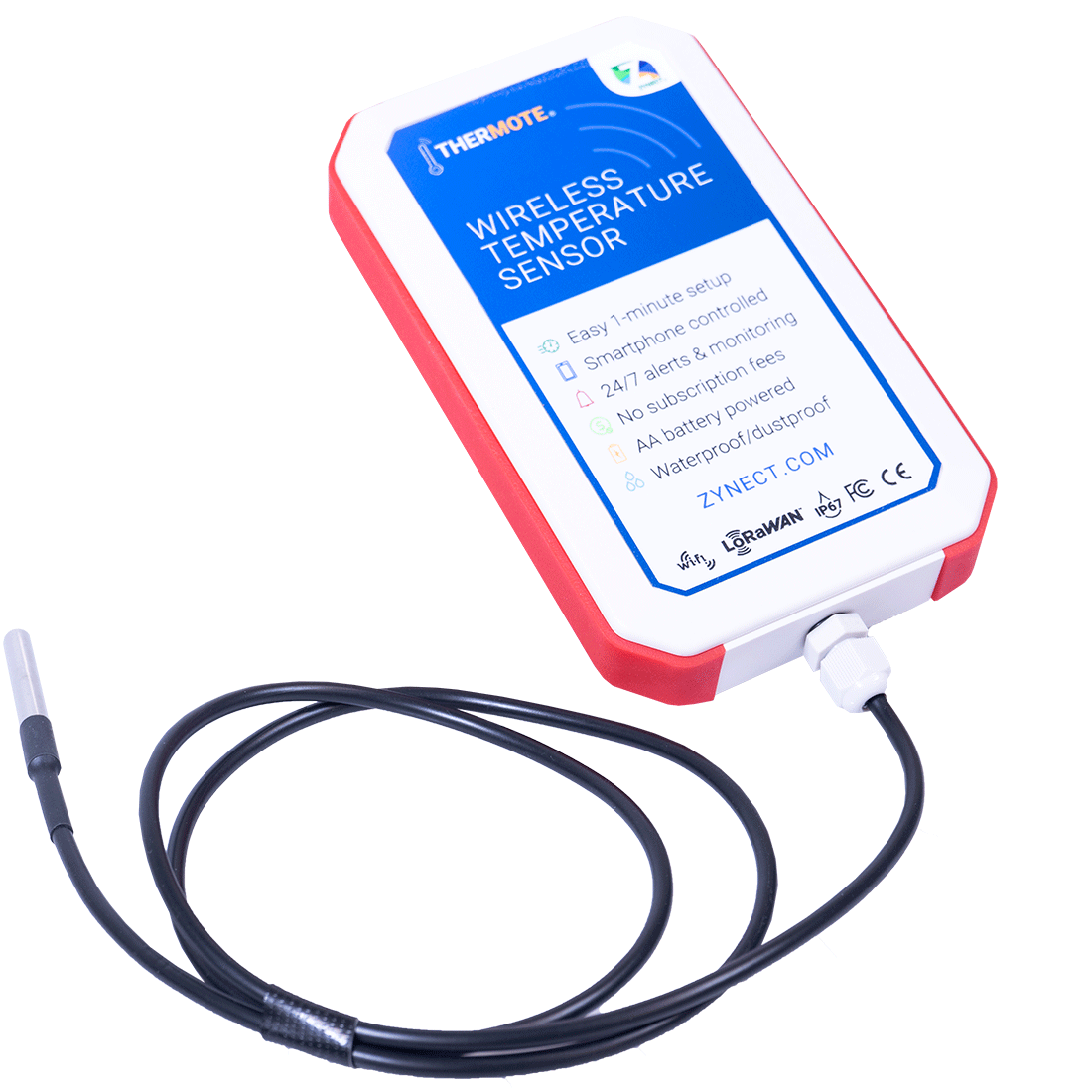 Thermote Wireless Temperature Sensor: Remote Monitoring: Reduce Waste, Improve Response
---
The perfect tool to give you peace of mind. Remotely monitor your property or equipment. Set it and forget it. Receive custom alerts to your smartphone based on easy to set alert levels. Download complete audit history.
Update: We offer 2 variations of the Thermote. One that connects to Wi-Fi only and one that has the option to switch between Wi-Fi and LoRaWAN. LoRaWAN gives you the option for longer range monitoring. For more information on LoRaWAN please click here.
All Zynect sensors are IP67 rated – Water and dust proof!
Take a look at this quick video for an overview of the Thermote!
Monitor Alerts/Historical Trends via Smartphone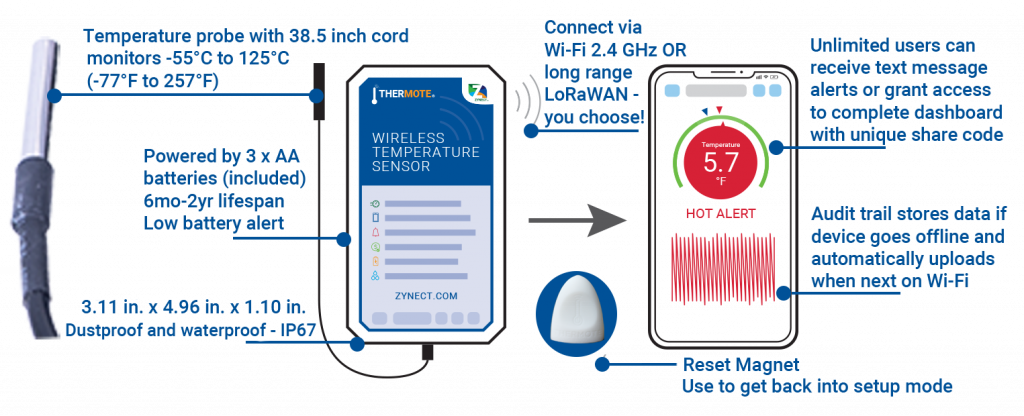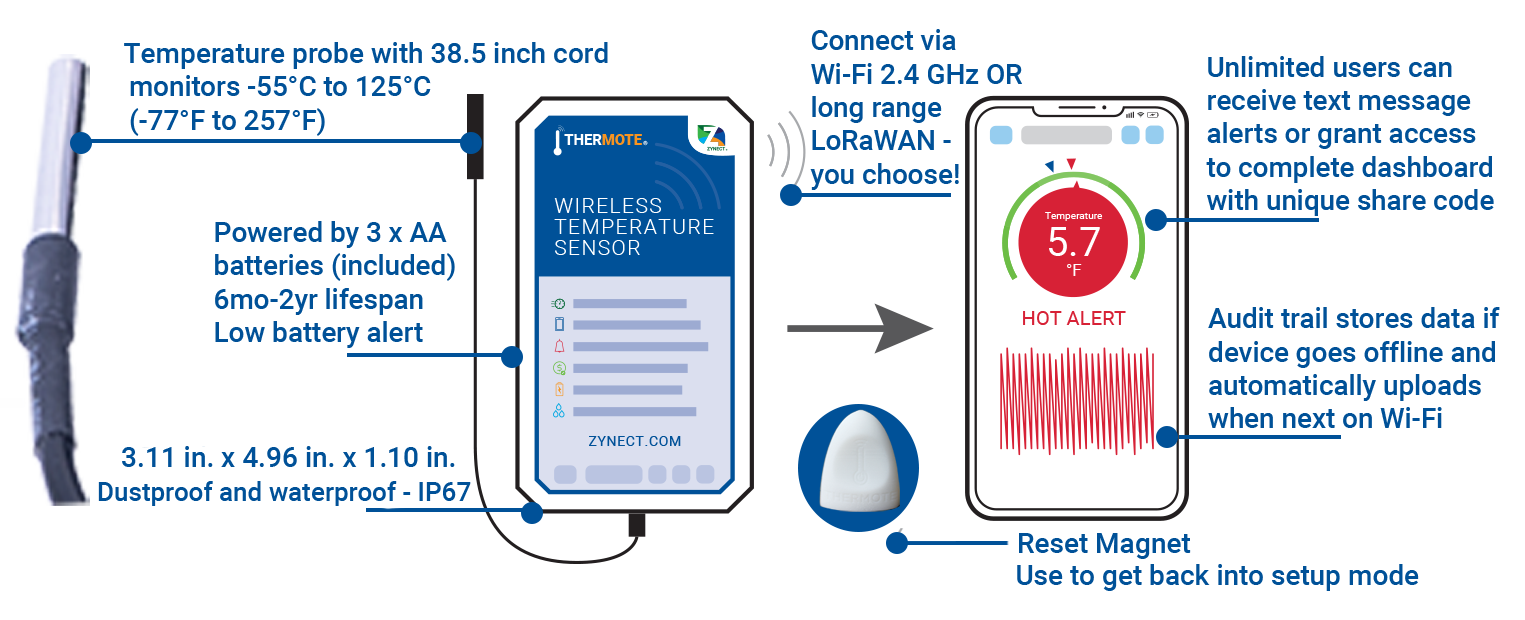 Thermote App and Portal Screenshots
---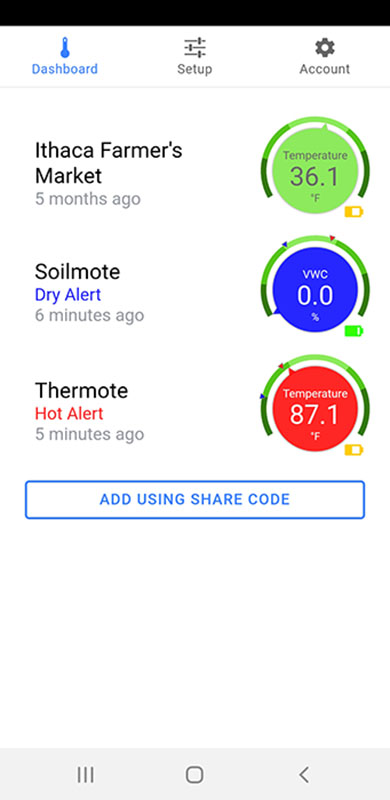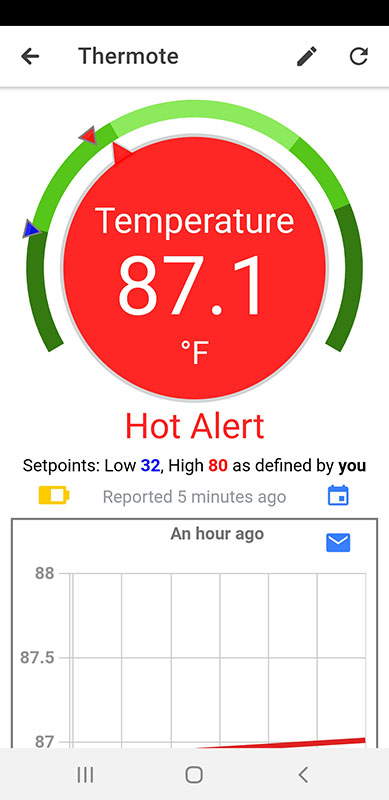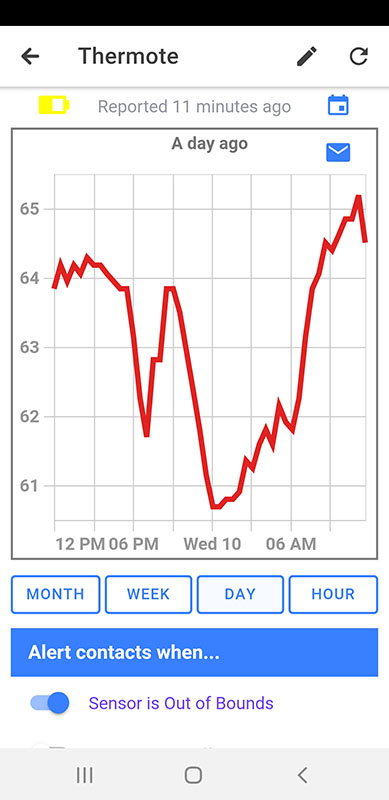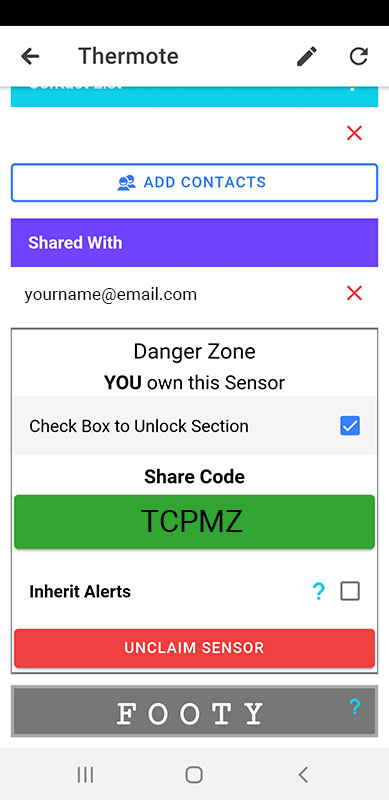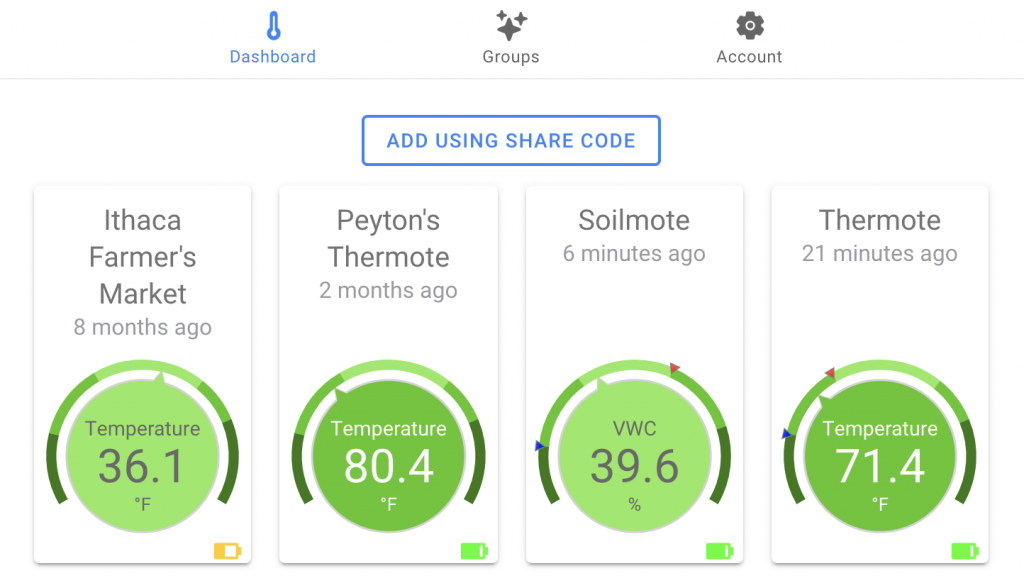 Are you concerned about your food storage failing and losing thousands of dollars in inventory?
Put your mind and wallet at ease by installing the Thermote to your food storage equipment. Receive text message alerts if your equipment gets too warm or too cold (you choose the custom temperature range). Avoid thousands of dollars of food waste by receiving a real-time alert when your freezer starts to fail. Food inspector stopping by? Share a .csv file with temperature history to prove your food safety compliance.
Do you have a second home you want to monitor the temperature of while you are away?
Install a Thermote and share a unique share code with a neighbor. If the temperature drops or gets too hot, be alerted via text message. You will have peace of mind that your home is safe while you aren't there. It is also perfect to monitor pools or hot tubs for the same reason! If you are away you can be alerted when temperatures change.
Do you travel with your pets in an RV?
The Thermote is perfect for those who have a Wi-Fi connection (Including hot spots) and want to monitor their pets while away exploring. Be alerted if it gets too hot (or cold!) for your pet. *The Thermote is not a medical device or safety of life device*
Other Therrmote Uses?
Thermote operates as a remote thermometer connected to the cloud and your phone through IOT technology. Through remote temperature monitoring you can be assured that your investment is secure. This Wifi thermometer or IOT thermometer performs as a remote temperature logging thermometer. This waterproof temperature sensor can also serve as a low temperature thermometer down to -77º F. Thermote is an excellent Freezer Monitor or Fridge monitor helping to prevent lost food or other important contents from freezer failure or refrigeration failure. Thermote is ideal if you want to monitor Spa temperature or hot tub temperature. It is also ideal as a pool thermometer or for monitoring wine cellar temperature. Thermote can be used as a house temperature monitor or to track and monitor RV temperature.